Tahitian Noni - Another Amazing Success Story
14/06/11 14:07


It's Not Just What We Do… It's How We Do It.

Tahitian Noni Annual 2010 International Leadership Conference a Huge Success

Situation:

One of the leading direct selling companies in the world, Tahitian Noni Inc. was poised to re-launch its company with revolutionary new packaging and new scientific evidence that its products are far superior to all competitors. . The bold launch, considered by executives to be the most important in TNI history, was to happen at its 2010 ILC Conference at the Anaheim Convention Center in Anaheim, California.

Challenge:

Like many companies, TNI had good meeting production resources. But they wanted more than just making sure the lights and sound and video and staging were flawless. They needed a strategic partner that would carefully consider every element from graphics to speaker support, from first words to farewell – and ensure that everything aligned with the goal of repositionnig their brand, image, and message.
Solution:

After an exhuasting RFP process with several agencies that included their incumbent provider, TNI selected CMS because of its strategic perspective, cutting-edge proprietary presentation technologies, creative design capabilities, and the overall value solution that CMS offers.

Results:

This note says it all: "Thanks to you and your team for all the great support during our ILC. Not only was the event extremely successful, but you and your team were an absolute delight to work with. Please convey our thanks to your whole team. Again, thanks for everything!" Executive Vice President Tahitian Noni International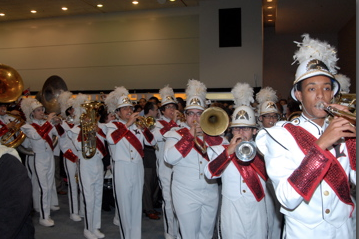 Thousands of Tahitian Noni Distributors attended the Conference. Some of the highlights included CMS's proprietary Infinity Staging™ reveals of new packaging, as well as the magical on-stange appearance of a 2010 Mercedes S-Class on Awards Night, through which their top producers emerged in true Red Carpet Style as they were introduced.

CMS provided executive communication and script writing and executive presentation coaching services, as well as graphics production.
As CMS President, Diana Zimmerman says, "CMS offers much more than just lights, audio, video and staging. We help strategically construct every element of the entire event."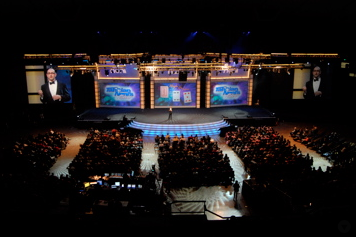 CMS, founded in 1985, is a Marketing Communications Agency specializing in the design and production of major events.

CMS is ranked as one of Special Events Magazine's Top 50 Agencies. CCG, a division of CMS, specializes in enhancing corporate communications through new media and advanced virtual technologies.


Contact CMS by phone +1.310.645.5604.